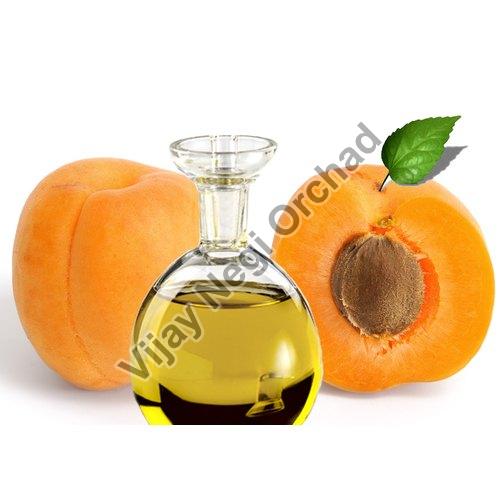 Extracted from the kernels of the apricot fruit, apricot oil or Khubani oil is all-purpose oil which can be used for cooking purposes as well as nourishment of skin when applied topically. This oil is light, non-sticky, and has a nutty flavor making it a favorite addition to many culinary purposes in many parts of the world. You can find 2 different varieties of apricot oil –one is used for culinary consumption and the other for cosmetic purposes.
Rich in vitamin K, vitamin E, vitamin A, vitamin C, vitamin B17, caffeic acid, various catechins, etc., this magical oil is known to have wonderful healing, emollient, antioxidant, antibacterial, and anti-aging properties. This oil is versatile and has multiple benefits depending on its uses. Let's take a look at some of the benefits of apricot oil-
• Improves Skin Health:
Since ancient times, natural apricot oil has been used as one of the best skincare ingredients in Indian households. Known for emollient properties, apricot oil helps in exfoliating and moisturizing the skin. It helps in retaining moisture, reducing patches of dry skin, and soothing inflammatory conditions such as psoriasis, eczema, and rosacea. It can also be used to eliminate fine lines and wrinkles and other signs of aging. As apricot oil has a light texture, it can easily absorb in the skin making it soft, and radiant.
Vitamin E content of apricot oil boosts the ability of the skin to retain clarity and elasticity thereby protecting the cells from harmful free radicals (environmental pollutants). It also promotes skin tone. The fatty acid content of apricot oil functions as non-greasy emollients to restore and nourish dry skin.
The natural linoleic acid (omega 6) content of the oil helps in strengthening the skin's barrier function. Its oleic acid (omega 9) content helps in softening the skin and giving it a satin-like feel. You can find a wide range of products for your lip, skin, and face containing apricot oil as a key ingredient.
• Good For Massage And Other Therapies:
Natural apricot oil is widely used as a massage oil in spas and massage parlors. The oil has a very fine texture that makes it penetrate deep into the skin and relieve pain. As it is very light, apricot oil does not leave any residue on the skin. After a massage with natural apricot oil, you will feel relaxed and stress-free. It is often used along with other essential oils such as rose, chamomile, or lavender in aromatherapy.
• Maintains Hair Health:
Many people love to apply natural apricot oil on their scalp and hair, as it can help in strengthening weak hair strands and improves the health of damaged hair follicles. By using this oil in the hair mask, you can get rid of your inflammatory conditions such as dandruff and itchy scalp.
• Helps Prevent Skin Cancer:
Loaded with antioxidants, apricot oil is helpful in reducing oxidative stress in the skin and beneficial for people who have premature aging signs. The antioxidants of this oil tighten and tone the skin eliminating the age spot on the skin and preventing the risk of cellular mutation which may lead to skin cancer.
• Helps Treat Acne And Blemishes:
Many people use this oil to treat acne and blemishes. Application of apricot oil presented by a reputed natural apricot oil manufacturer to the acne area can be beneficial for treating it. The oil prevents the secretion of sebum in the glands and reduces inflammation. It is very helpful for treating both the underlying problem of acne and the symptoms.
• Improves Heart Health:
Including apricot oil in your daily dishes can be a healthier option for your heart as well as your cardiovascular system. This oil can help in lowering the risk of myocardial infarction in humans. You can use this oil in salad dressing or can prepare certain recipes that go well with the aroma of this oil. But it is important to choose the best quality oil for cooking presented by a trusted. natural apricot oil manufacturer